All-natural, stress-free, mess-free soft chew for hiding medication.
Giving medication doesn't have to be difficult or frustrating – for pets or pet parents.
HIDE & TREAT is a stress-free, mess-free way to give medication, disguised as a healthy and flavourful treat.
You can feel confident rewarding pets with a high-quality treat made with clean ingredients.
HIDE & TREAT is a highly palatable soft chew that is low in fat content and calories (up to 17.4 kcal per treat).
Contains prebiotics called mannanoligosaccharides (MOS) to support optimal intestinal health
Naturally preserved; conveniently wrapped in pairs to preserve freshness
Available in 3 allergy-friendly, irresistible flavours: duck, peanut butter & banana or turkey & pumpkin
Breakable and malleable
Contains no wheat or corn; no artificial flavours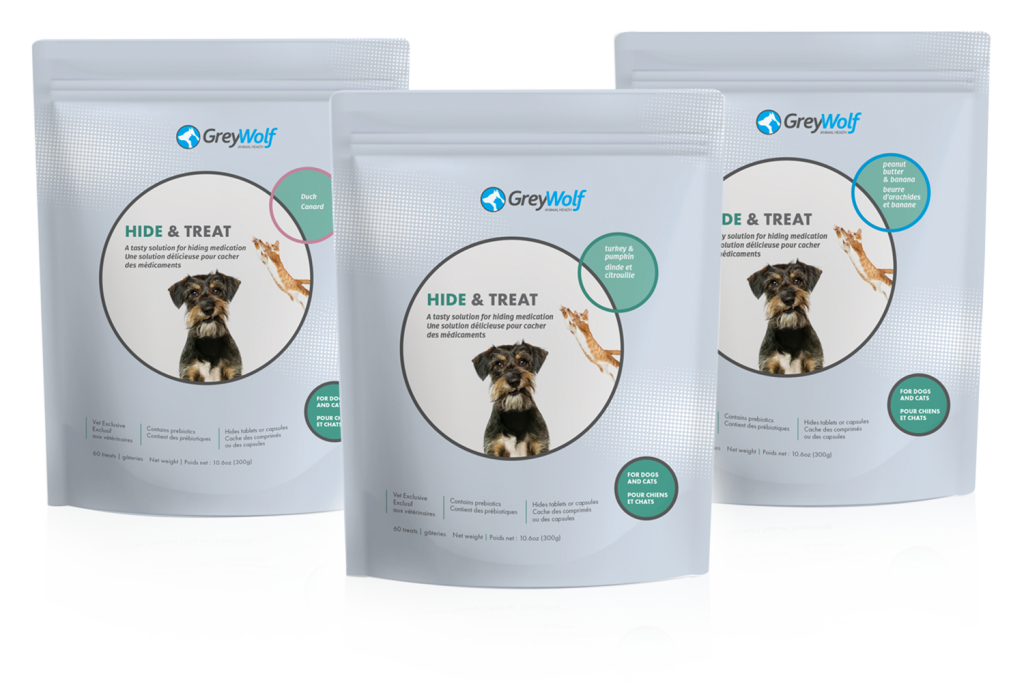 TIPS FOR GIVING HIDE & TREAT
HIDE & TREAT soft chews are an ideal first treat for puppies and kittens.
Break one HIDE & TREAT into small pieces for training sessions.
Start feeding HIDE & TREAT while your pet is young so that your pet is familiar with the treat when it is time to give medication.
Avoid hiding medicine in human foods, such as peanut butter or cheese, which are higher in fat and may cause some GI upset.
Do not touch HIDE & TREAT with the same hand that handles medication.
Use 1 treat for tablets and 2 treats for capsules, and form around medication.
If treat becomes dry and crumbly, gently massage until natural oils are released before using.