ANTIMICROBIALS CAN CAUSE HARM
Antimicrobials don't work for the majority of GI conditions and can cause severe short and long-term harm to the gut microbiome.1-6,14
For acute diarrhea, new recommendations advise that the first choice should be a medical grade clay, like montmorillonite, with a synbiotic.1 Montmorillonite is superior,1 10-15 times more absorbent than kaolin and 2-3 times more effective than attapulgite.7-10
Choose fast-acting, all-natural, Health Canada–approved ENTERO AID +GI™.
ENTERO AID +GI™ is a synbiotic containing montmorillonite clay. It works within hours without harming the gut microbiome.11-13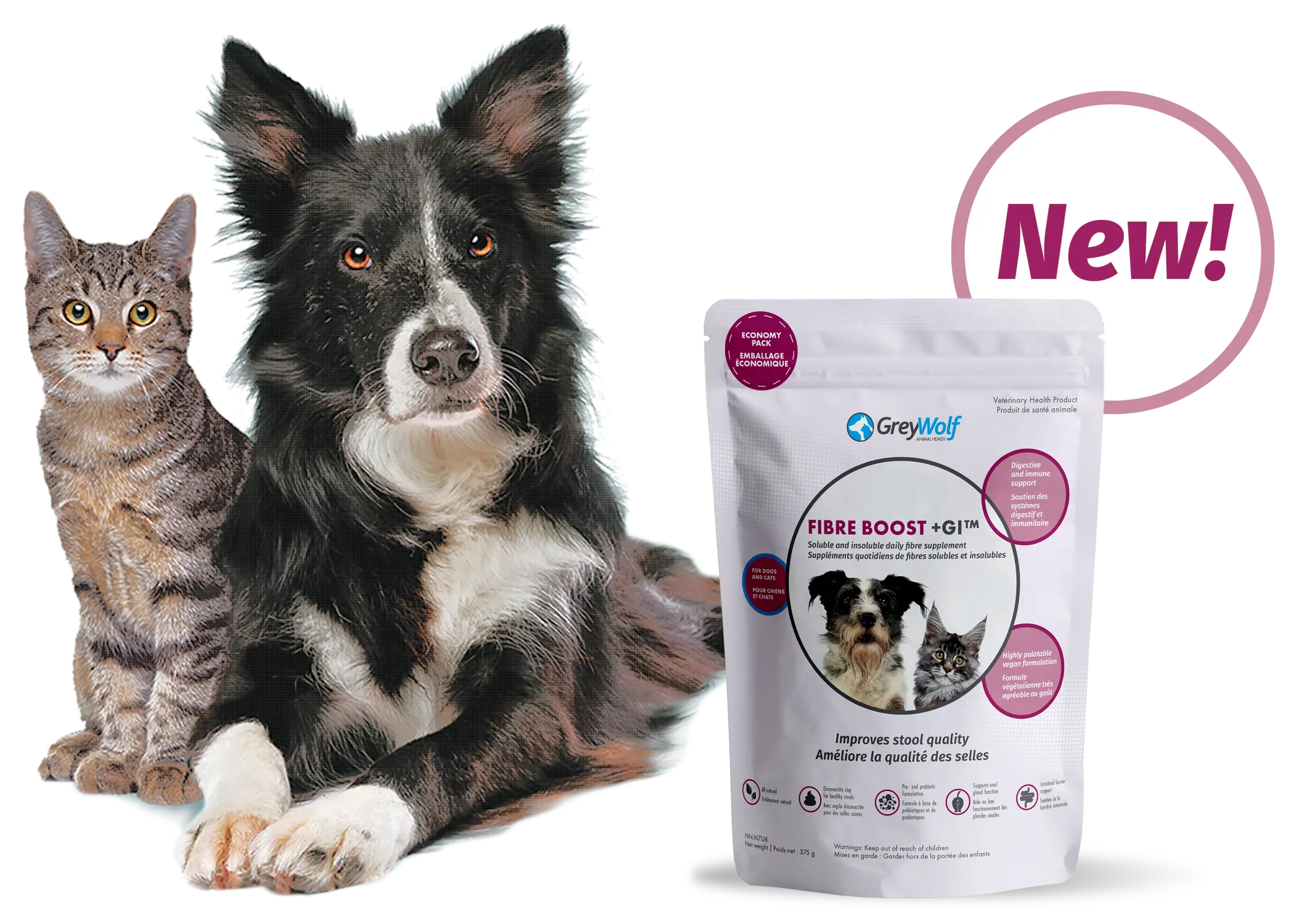 For acute/chronic intermittent enteropathy and large bowel diarrhea, new recommendations advise that the first choice should be a synbiotic containing a mix of soluble fibres, and insoluble fibres.14-17 Improve efficiency by combining with a mucoprotectant medical grade clay, like montmorillonite. This safely controls signs during disorders associated with chronic diarrhea.18,19
Choose all-natural, Health Canada–approved, vegan FIBRE BOOST +GI™ supplement. FIBRE BOOST +GI™ is a veterinary exclusive, potent combination of a synbiotic, montmorillonite clay, and soluble and insoluble fibres, for improved stool quality and healthy anal glands.
Antimicrobials are largely unnecessary in acute diarrhea1
A study reviewed electronic health records of 3,189 cases of acute canine diarrhea in vet practices in the UK. While antimicrobials were prescribed in 49.7% of these cases, they found that only the provision of dietary modification advice and gastrointestinal nutraceuticals was positively associated with resolution of diarrhea. No such associations were found when antimicrobials were prescribed.2
There is minimal (if any) proven benefit of antibiotic use in dogs with uncomplicated acute diarrhea. There is no basis to support the routine prescription and use of antibiotics in these cases.6
Most cases of acute diarrhea are not due to pathogenic bacterial infections or are self-limiting, so antimicrobials are not indicated, do not hasten time to clinical resolution, and may cause further dysbiosis.20
There is no proven benefit for the use of antimicrobials for the treatment of acute GI upset1-3,6
A Consensus Statement of the American College of Veterinary Internal Medicine (ACVIM) advises that "Most bacterial enteropathogens are associated with self-limiting diarrhea, and injudicious administration of antimicrobials could be more harmful than beneficial".21
A double-blind placebo-controlled study showed there was no statistical difference between a commercial probiotic, metronidazole, and placebo. Dogs presenting with acute diarrhea achieved acceptable fecal consistency after 3.5 ± 2.2 days when receiving probiotic, 4.6 ± 2.4 days with metronidazole, and 4.8 ± 2.9 days with placebo.3
There are negative short and long-term effects of administering antimicrobials in healthy pets and those with underlying gastrointestinal disease1,4-6,14
Antimicrobials can have a profound negative impact on the microbiome.1,14
Opinions vary about the short and long-term effects of antibiotics on the microbiome, which plays an important role in health and immunity, but it's clear that concern is warranted.6
At day 63 in a study using tylosin, some dogs' microbiome had not recovered two months after oral tylosin exposure.4
Fecal dysbiosis index significantly increased in healthy dogs receiving metronidazole, indicating significant alterations in the microbiome structure and diversity, with some changes remaining up to 4 weeks after completion of antibiotic administration.5
Despite the frequency of antibiotic use for GI disease in dogs, there are relatively few indications for prescribing antimicrobials. Overuse could result in antimicrobial resistance and may have long-lasting effects on the host microbiome.6
Recommendations for the Management of GI Conditions in Pets
A CE accredited panel discussion included updated Recommendations for the Management of GI Conditions in Pets. They were presented by board-certified internal medicine specialists with vast clinical experience in gastroenterology and infectious diseases.
Susan Kilborn
DVM, DVSc, Dipl. ACVIM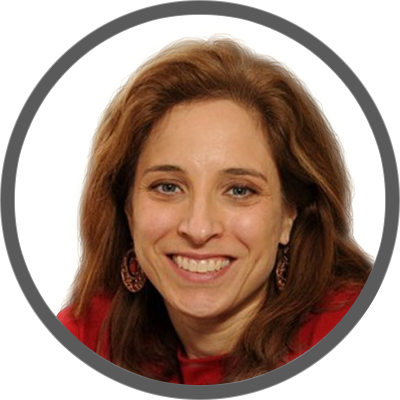 Lisa Carioto
DVM, DVSc, Dipl. ACVIM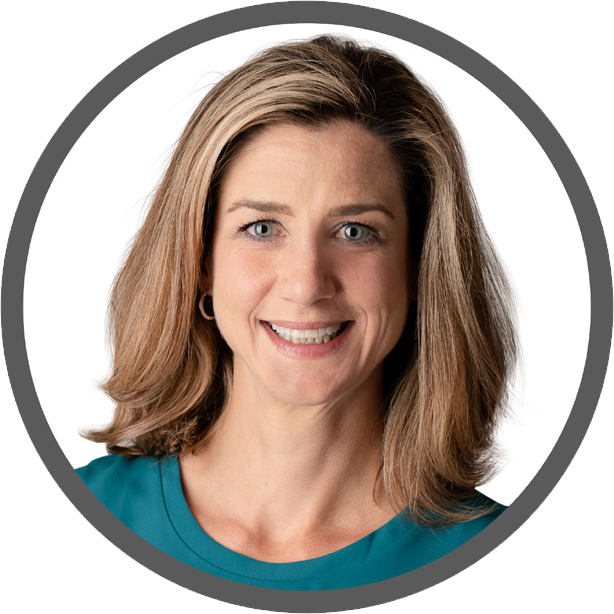 Tatjana K. Mirkovic
BSc, DVM, Dipl. ACVIM

Recommendations for the management of Mild Acute GI Upset
It's free, and only takes two minutes to register
Recommendations for the management of Chronic Enteropathy
It's free, and only takes two minutes to register
We need new roadmaps for how to approach acute and chronic enteropathy from a "Do No Harm" perspective.1,14 This means :
PAUSING antimicrobial use
Choosing safer options
Shortening the duration of diarrhea while avoiding harm to our patient
Reducing stress and discomfort for the pet and pet parent
ROADMAP FOR THE MANAGEMENT OF MILD ACUTE GI UPSET.1
ROADMAP FOR THE MANAGEMENT OF CHRONIC ENTEROPATHY.14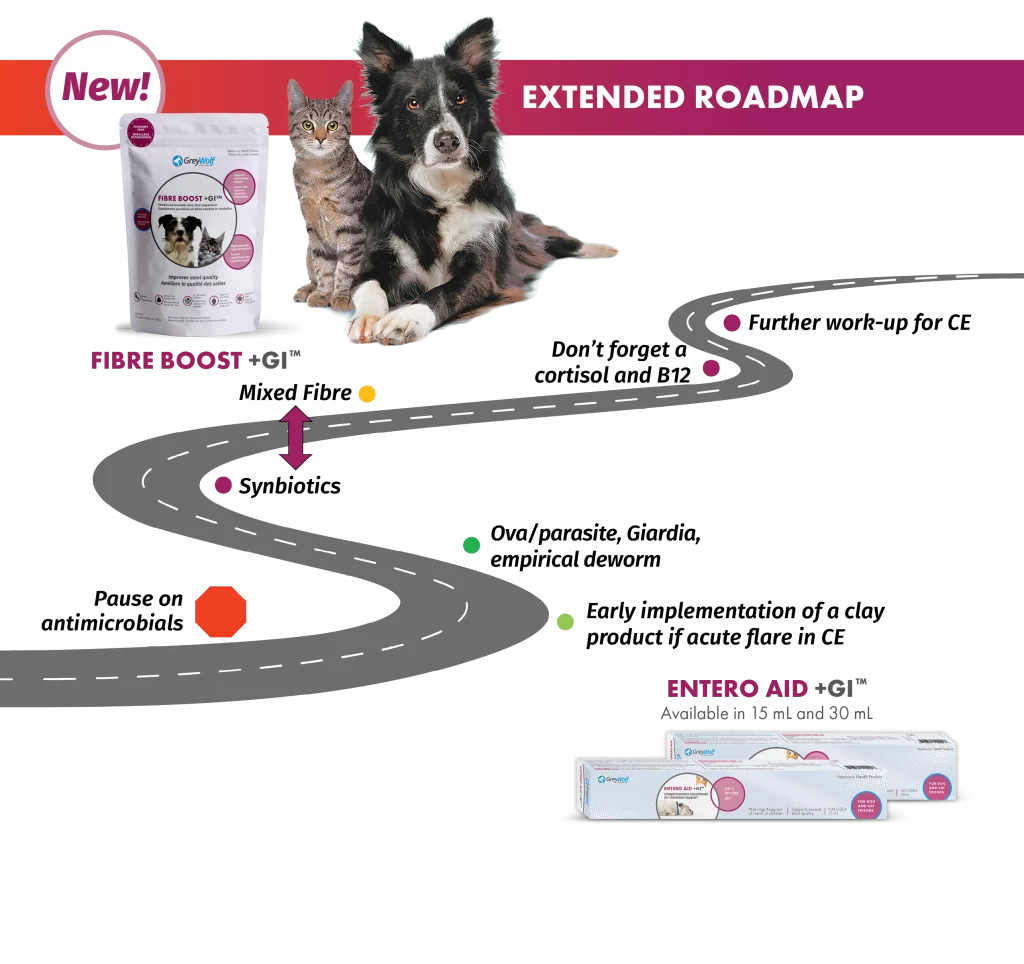 Management of Mild Acute GI Upset1
Medical grade clay to reduce time to resolution of acute diarrhea
Synbiotics to enhance immune function and improve gut health
Diet and hydration support
To learn more about how to effectively manage GI upset, click on the links below:
Management of Chronic Enteropathy14
Medical clays to help resolve acute flares quickly
Synbiotics to help correct dysbiosis and improve gut health
Mixed fibre diet or supplementation
Watch Expert Session on Managing chronic enteropathy and large bowel diarrhea without using antimicrobials
Susan Kilborn
DVM, DVSc, Dipl. ACVIM
REQUEST A CALL FROM A REP
References
Kilborn S, Carioto L, Mirkovic T.K. (2022, March 9). Pet Parents Have Come to Expect and Even Demand Antimicrobials for Mild Acute GI Upset …How can we change the narrative? CommuniVET Webcast. [Handout] https://koi-3qnn9yktze.marketingautomation.services/net/m?md=dgFVjj%2F8lhLwSptReWRbtXdvOumJkZjJ
Singleton, D. A., Noble, P., Sánchez-Vizcaíno, F., Dawson, S., Pinchbeck, G. L., Williams, N. J., Radford, A. D., & Jones, P. H. (2019). Pharmaceutical Prescription in Canine Acute Diarrhoea: A Longitudinal Electronic Health Record Analysis of First Opinion Veterinary Practices. Frontiers in veterinary science, 6, 218. https://doi.org/10.3389/fvets.2019.00218
Shmalberg, J., Montalbano, C., Morelli, G., & Buckley, G. J. (2019). A Randomized Double Blinded Placebo-Controlled Clinical Trial of a Probiotic or Metronidazole for Acute Canine Diarrhea. Frontiers in veterinary science, 6, 163. https://doi.org/10.3389/fvets.2019.00163
Manchester, A. C., Webb, C. B., Blake, A. B., Sarwar, F., Lidbury, J. A., Steiner, J. M., & Suchodolski, J. S. (2019). Long-term impact of tylosin on fecal microbiota and fecal bile acids of healthy dogs. Journal of veterinary internal medicine, 33(6), 2605–2617. https://doi.org/10.1111/jvim.15635
Pilla, R., Gaschen, F. P., Barr, J. W., Olson, E., Honneffer, J., Guard, B. C., Blake, A. B., Villanueva, D., Khattab, M. R., AlShawaqfeh, M. K., Lidbury, J. A., Steiner, J. M., & Suchodolski, J. S. (2020). Effects of metronidazole on the fecal microbiome and metabolome in healthy dogs. Journal of veterinary internal medicine, 34(5), 1853–1866. https://doi.org/10.1111/jvim.15871
Grimes, M., & Lidbury, J. (2020, February 19). Antibiotics in canine GI disease: When to use and when to ditch. DVM 360. Retrieved June 6, 2022, from https://www.dvm360.com/view/antibiotics-in-canine-gi-disease-when-to-use-and-when-to-ditch
Maki, C.R., Allen, S., Wang, M., Ward, S.H., Rude, B.J., Bailey, H.R., Harvey, R.B., Phillips, T.D. (2017). Calcium montmorillonite clay for the reduction of aflatoxin residues in milk and dairy products. Journal of Dairy and Veterinary Sciences. 2(3):1–8.
Barshad, I. (1952). Absorptive and Swelling Properties of Clay-Water System. Clays Clay Miner. 1, 70–77. https://doi.org/10.1346/CCMN.1952.0010108
Williams, L. B., & Haydel, S. E. (2010). Evaluation of the medicinal use of clay minerals as antibacterial agents. International geology review, 52(7/8), 745–770. https://doi.org/10.1080/00206811003679737
Adamis, Z., Williams, R. B. (‎2005)‎. Bentonite, kaolin and selected clay minerals. [Report]. Environmental health criteria, 231. World Health Organization. https://apps.who.int/iris/handle/10665/43102
Fournier, Q., Serra, J. C., Williams, C., & Bavcar, S. (2021). Chemotherapy-induced diarrhoea in dogs and its management with smectite: Results of a monocentric open-label randomized clinical trial. Veterinary and comparative oncology, 19(1), 25–33. https://doi.org/10.1111/vco.12631
Hahn, K. A., Carpenter, R. H. (2008). Calcium Aluminosilicate (CAS) in the Treatment of Intractable Diarrhea in Dogs with Cancer. Intern J Appl Res Vet Med, 6(3):181–184.
Khediri, F., Mrad, A. I., Azzouz, M., Doughi, H., Najjar, T., Mathiex-Fortunet, H., Garnier, P., & Cortot, A. (2011). Efficacy of diosmectite (smecta) in the treatment of acute watery diarrhoea in adults: a multicentre, randomized, double-blind, placebo-controlled, parallel group study. Gastroenterology research and practice, 2011, 783196. https://doi.org/10.1155/2011/783196
Carioto L, Kilborn S, Mirkovic T.K. (2022, September 28). Changing the narrative. Tools for reducing use of antimicrobials for GI conditions in companion animals. CommuniVET Webcast. [Handout] https://koi-3QNN9YKTZE.marketingautomation.services/net/m?md=juMTkV2YNzww7Avnt3E72d9%2FsMPziMip
Rudinsky, A. J., Rowe, J. C., & Parker, V. J. (2018). Nutritional management of chronic enteropathies in dogs and cats. Journal of the American Veterinary Medical Association, 253(5), 570–578. https://doi.org/10.2460/javma.253.5.570
Lenox C. E. (2021). Nutritional Management for Dogs and Cats with Gastrointestinal Diseases. The Veterinary clinics of North America. Small animal practice, 51(3), 669–684. https://doi.org/10.1016/j.cvsm.2021.01.006
Linder, D. (2022, February 11). Featuring fiber: Understanding types of fiber and clinical uses. Today's Veterinary Practice. Retrieved June 6, 2022, from https://todaysveterinarypractice.com/nutrition/understanding-types-fiber-clinical-uses/
Alonso-Cotoner, C., Abril-Gil, M., Albert-Bayo, M., Mall, J. G., Expósito, E., González-Castro, A. M., Lobo, B., & Santos, J. (2021). The Role of Purported Mucoprotectants in Dealing with Irritable Bowel Syndrome, Functional Diarrhea, and Other Chronic Diarrheal Disorders in Adults. Advances in therapy, 38(5), 2054–2076. https://doi.org/10.1007/s12325-021-01676-z
Da Silva, K., Guilly, S., Thirion, F., Le Chatelier, E., Pons, N., Roume, H., Quinquis, B., Ehrlich, S. D., Bekkat, N., Mathiex-Fortunet, H., Sokol, H., & Doré, J. (2022). Long-term diosmectite use does not alter the gut microbiota in adults with chronic diarrhea. BMC microbiology, 22(1), 54. https://doi.org/10.1186/s12866-022-02464-7
Frey, E., Costin, M., Granick, J., Kornya, M., & Weese, J. S. (2022). 2022 AAFP/AAHA Antimicrobial Stewardship Guidelines. Journal of the American Animal Hospital Association, 58(4), 1–5. https://doi.org/10.5326/1547-3317-58.4.1
Marks, S. L., Rankin, S. C., Byrne, B. A., & Weese, J. S. (2011). Enteropathogenic bacteria in dogs and cats: diagnosis, epidemiology, treatment, and control. Journal of veterinary internal medicine, 25(6), 1195–1208. https://doi.org/10.1111/j.1939-1676.2011.00821.x